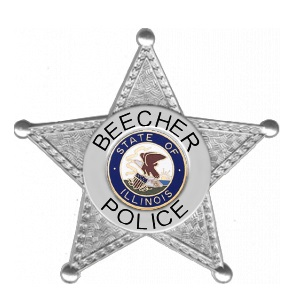 FULL-TIME POLICE OFFICER
Salary range: $59,512.00 – $77,308.00
12 hour shifts, Pay based on years of experience
Sworn Officers:  10 Full-time and 5 Part-time
Population:  4,800
The Village of Beecher is located 37 miles south of Chicago.  The community has continued to grow in both residential and commercial properties, which also includes an industrial park. As the growth continues, the Village maintains the security and friendliness of a small town.
Applications must be returned to:
Beecher Village Hall, 625 Dixie Hwy, Beecher, IL 60401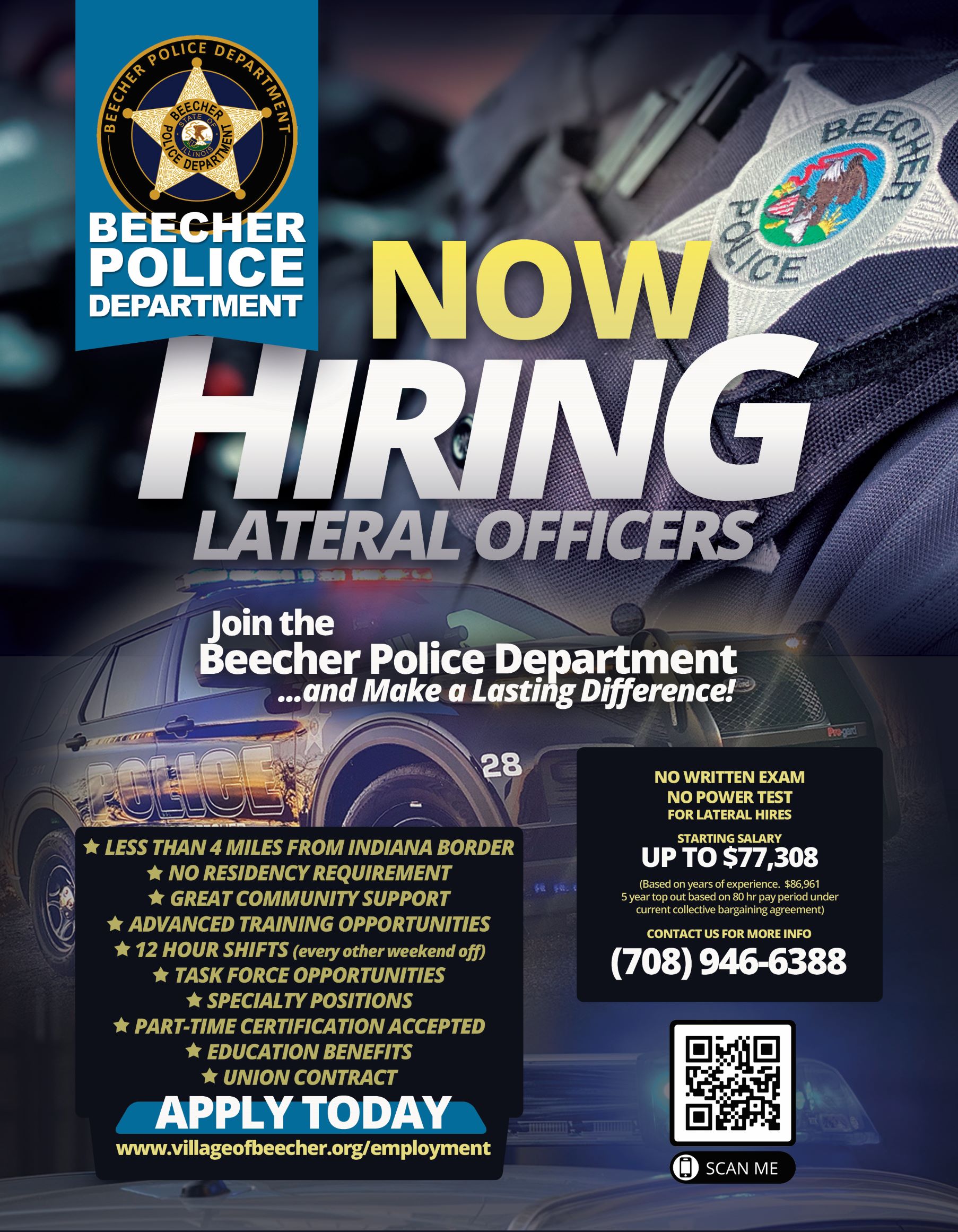 Or by email to [email protected]
 You must meet the following minimum requirements: 
Citizenship: Must be a U.S. Citizen 

Driver's License: Must possess a valid Driver's License at the time of application with the ability to obtain an Illinois Driver's License upon time of hire.

Age Requirement: Applicants must have attained their 21st birthday by the last date for filing applications.  

Character: Must have no felony convictions and be of good moral character as described in State Statue 65 IL5/10-2. 1-6

Education: High School Diploma/G.E.D.

Illinois Board-certification required for lateral

Residence: Must reside within a 50-mile radius of the boundaries of Beecher within one (1) year of hire.

P.O.W.E.R. Card – NOTE: Candidates must possess a valid P.O.W.E.R. Card issued within 180 days of date of your Oral Exam.  (MUST either provide a copy of card in their returned application or bring card on the day of the Oral Exam. If valid P.O.W.E.R. Card is not received, applicant will not be allowed to proceed in the process.

Binocular vision corrected to 20/30

Possess exceptional communication skills



All individuals meeting eligibility requirements are encouraged to continue with the application process.  All applications are subject to the Rules and Regulations of the Village of Beecher, which is an Equal Opportunity Employer.
---
---
PART-TIME POLICE OFFICER
The part-time position involves a variety of police duties including maintaining law and order, preserving peace, preventing crime, apprehending offenders, recovering lost/stolen property, and maintaining custody of prisoners. 
This position does not advance to a full-time police officer position. There is a separate application and testing process for full-time police officers.
Qualifications:
High school diploma or equivalent

Possession of a valid driver's license

Preference will given to candidates who have graduated from a State of Illinois basic recruit academy and meets requirements for Illinois Law Enforcement Training and Standards Board for Certified Police Officer

Must not have been convicted of a felony or certain misdemeanors, as defined by State Statute

Must participate in and successfully complete all stages of the testing process, which may include but not limited to: oral interview, polygraph examination, extensive background investigation and post offer physical/drug test

Must be a citizen of the United States

Twenty-one years of age or older

Ability to work evenings, weekends and holidays
Standard shift is 12hr in length but can vary
Wage: 22/hr.
Applications available here 
or can be picked up at Village Hall, 625 Dixie Highway Beecher, IL 60401
Completed applications should be returned to the Village Hall or to [email protected]
Application Deadline: Open
---