VILLAGE OF BEECHER PARKS
All parks are open until dusk unless otherwise posted or special arrangements are made.
FIREMEN'S PARK – 675 PENFIELD STREET
This is the Village's central park.  Nine acres with off street parking available on Miller Street to the north end and Penfield Street on the south.  The park includes picnic pavilions, food service stand, and a stage.  The park is available for rental for corporate or family picnics and gatherings. (See the Rental Agreement and Park Regulations on the Document Center portion of the website.)  The park includes three sand infield ballfields, one t-ball field, an ice rink in Winter, jogging/walking path, exercise stations, and bathroom facilities.

LION'S PARK – 827 MILLER STREET
Large open space with jogging/walking path around the perimeter
Soccer fields
5 acres.
WOMEN'S WELFARE PARK – 720 REED STREET
Passive park with gazebo and picnic bench
1/2 acre.
HUNTER'S CHASE PARK – 270 WOODBRIDGE
Playground
Small open space
Picnic area
1/2 acre.
DEPOT PARK – 620 REED STREET
Veteran's memorial
Historic depot building, and museum
Caboose
Gazebo
Flower gardens
1/2 acre.
WATER TOWER PARK – 628 GOULD STREET
Playground for smaller children
1/4 acre.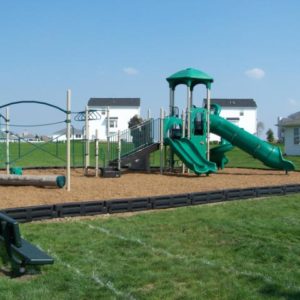 HUNTER'S CHASE EAST PARK – 1469 ROLLING PASS
Large pond
Passive park
1 acre
NANTUCKET COVE PARK – 300 CASTINE WAY
Playground
Open space
3 acres
PRAIRIE PARK – 1469 SOMERSET
Playground
Open space
3 acres
WELTON STEDT PARK – 29600 CARDINAL CREEK BLVD
Four ballfields: three sand infields and one grass infield
Pond
10 acres
Portable toilets are available
The Village of Beecher does not have a park district.  All parks are maintained by the Public Works Department.
If any graffiti or safety issues are found at any of the above parks please contact the Village Hall as soon as possible.